Har-Ber High School's aviation program helps students explore potential futures in the aviation industry.
The program began humbly with three students at the start of the school's Aviation Club in 2017 and has grown to incorporate two aviation classes with about 80 students currently participating in the club and classes annually.
"We started with an old Dell desktop computer and I had an old Microsoft flight simulator," said Jason McMullen, Har-Ber High School career technical education, aviation and math teacher.
A $200,000 grant from the Walton Foundation at the recommendation of Steuart Walton in 2020 and the introduction of free curriculum for the 2020-21 school year helped the program take off, he said.
The grant allowed the program to purchase 15 Federal Aviation Administration-certified flight simulators for student training, McMullen said.
Aviation 1 and Aviation 2 classes have been, respectively, added annually to Har-Ber's offerings since the 2020-21 school year through the You Can Fly curriculum provided by the Aircraft Owners and Pilots Association Foundation, McMullen said. Har-Ber will add Aviation Lab as the final class in the curriculum in the 2022-23 school year.
CAREER PATHWAYS
The classes have pilot ground training and commercial drone license pathways for students to explore, he said. Students will have the knowledge they need to pass the FAA private pilot written test or become Part 107 drone pilot certified through the curriculum.
The classes make such training accessible for students, who may not have the means to receive it independently, McMullen said.
The drone certification test is about $300, he said, while ground training for the private pilot written test can cost as much as $200 per hour. As such, students are receiving tens of thousands of dollars in free career training by taking Aviation classes at Har-Ber.
The classes will help participating Har-Ber students graduate with a clear career track following graduation, McMullen said.
"More than half of graduates now at Har-Ber, don't go to college their first year," he said. "Most jobs they're going to get straight out of high school are going to pay just above minimum wage."
Air traffic controllers make about $50,900 annually, avionics technicians earn some $40,000 annually and pilots and flight engineers make about $65,200 annually in Northwest Arkansas, according to Statista, a provider of international market data.
There's a genuine need for qualified employees nationally in the aviation field, McMullen said, which includes many worthwhile career options beyond simply becoming a pilot. Some 800,000 flight service job openings are anticipated nationally in the next 20 years, in areas that include air traffic control, meteorology and maintenance.
Jackson Cawthon, a Har-Ber junior, began taking Aviation courses last school year and has designs on potentially pursuing a degree in aviation management or air traffic control following graduation.
The 16-year-old said he's learned a lot more than how to operate an airplane through the course.
"It's given me kind of a more broad view of different subjects and topics," Cawthon said. "I've kind of picked up the view of giving something a chance and looking into it more and seeing what all it's about."
CRUISING UPWARD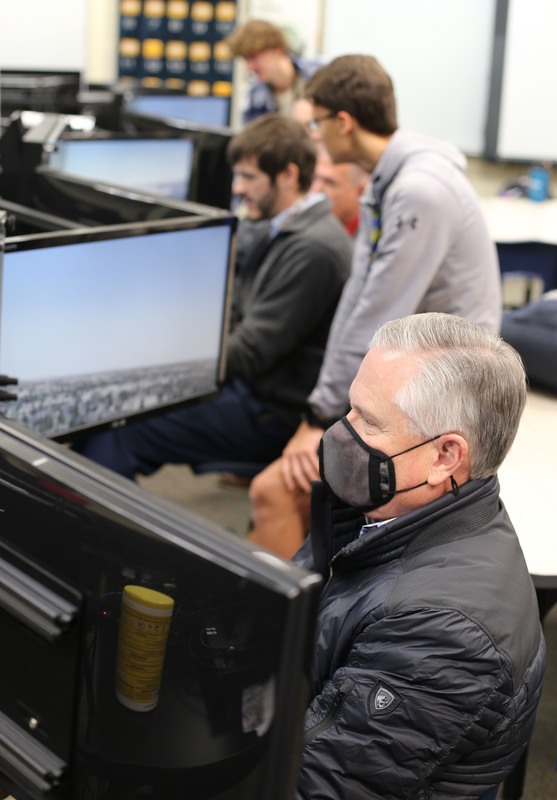 Program supporter Camron McAhren said there's a true need for further developing the aviation industry in Northwest Arkansas. McAhren owns ARH Aviation in Springdale, Fly Tulsa in Tulsa, Okla., and Branson Helicopter Tours.
"Our biggest thing is having qualified pilots and candidates to be able to fly for us," he said. "The reason it's so hard is people just don't know about the industry."
McAhren said starting such training in high school will help create a natural pathway for students into college to meet regional aviation employment needs.
There are currently no colleges or universities offering aviation degrees in Northwest Arkansas, a reality that may be changing in the future, he said. Aviation curriculum is in the works to be introduced at a to-be-announced four-year university in the region in the fall.
"We've always wanted to have this end to end solution," McAhren said, adding details about the participating university can't be disclosed at this time. "I think the outlook is amazing, just from the interest from the students."
McMullen hopes to support other schools and districts statewide who may be interested in incorporating aviation classes into their curriculum as well.
Har-Ber was the first school in Arkansas to offer aviation curriculum, he said, followed by Little Rock Catholic High School in August.
"Aviation is the leading export business in the state with an economic impact of over $3 billion," he said, adding limiting the program to Northwest Arkansas would be a disservice to the state.
Students interested in joining the Aviation Club or taking Aviation classes or businesses interested in learning more about how they may be able to support Aviation education at Har-Ber are encouraged to contact McMullen at jmcmullen@sdale.org or 479-750-8777.