Attention ALL Springdale Seniors! Springdale Public Schools Education Foundation's Scholarship applications are now open!
https://www.smore.com/zpm8q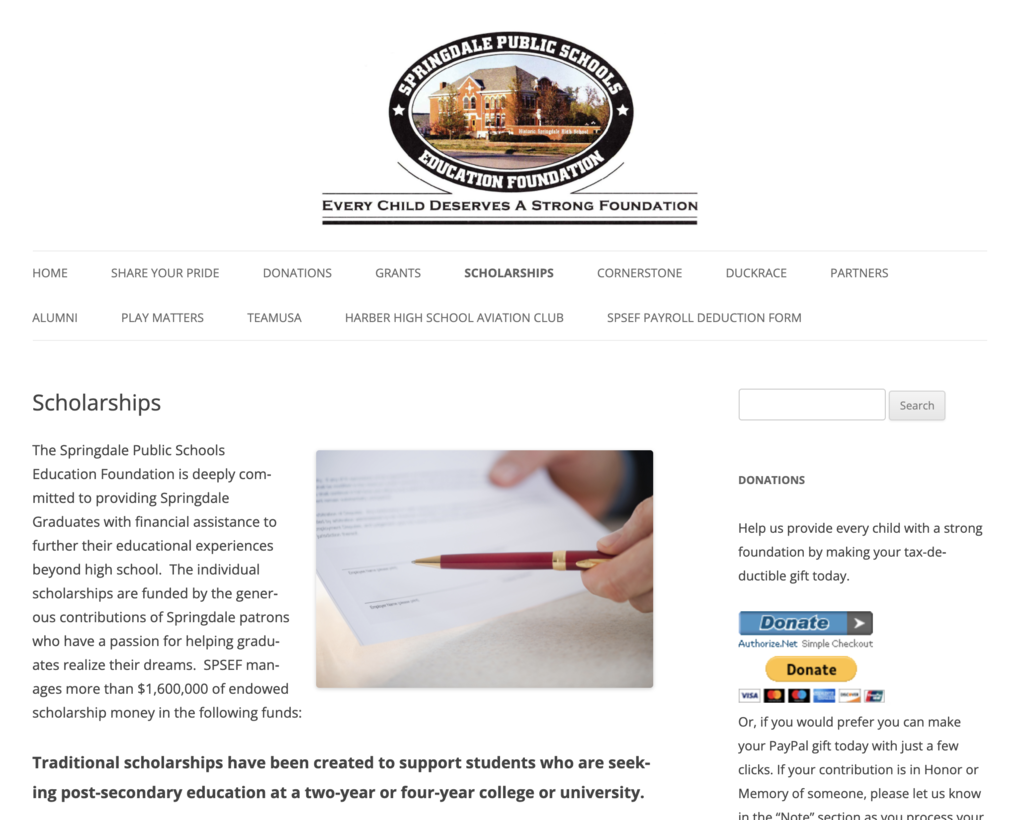 Alan Showalter was recognized at the Springdale Schools January School Board meeting for being named the Region 5 Choral Director of the Year! He is the Head Choral Director at Southwest Junior High. This is his FOURTH time win this honor! Congratulations!

Thank you SPSEF!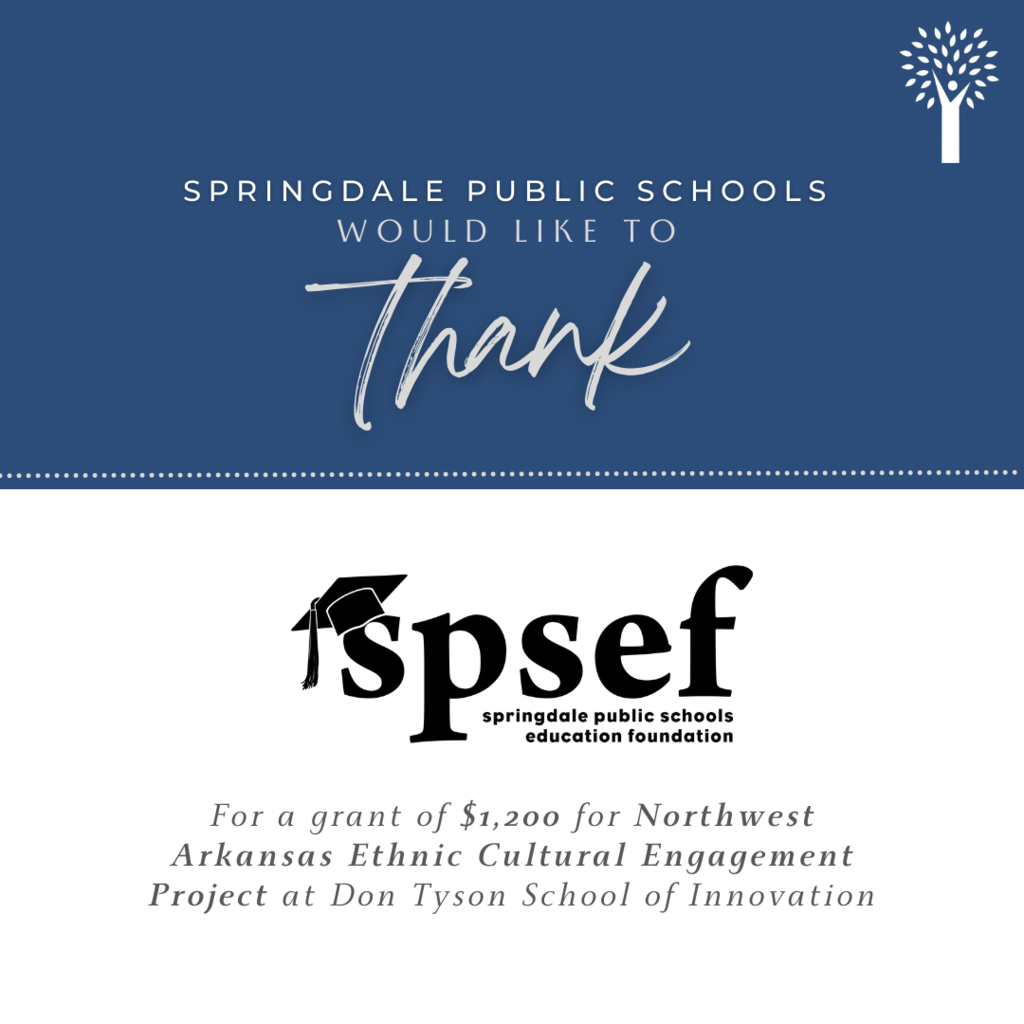 Thank you SPSEF for your generosity!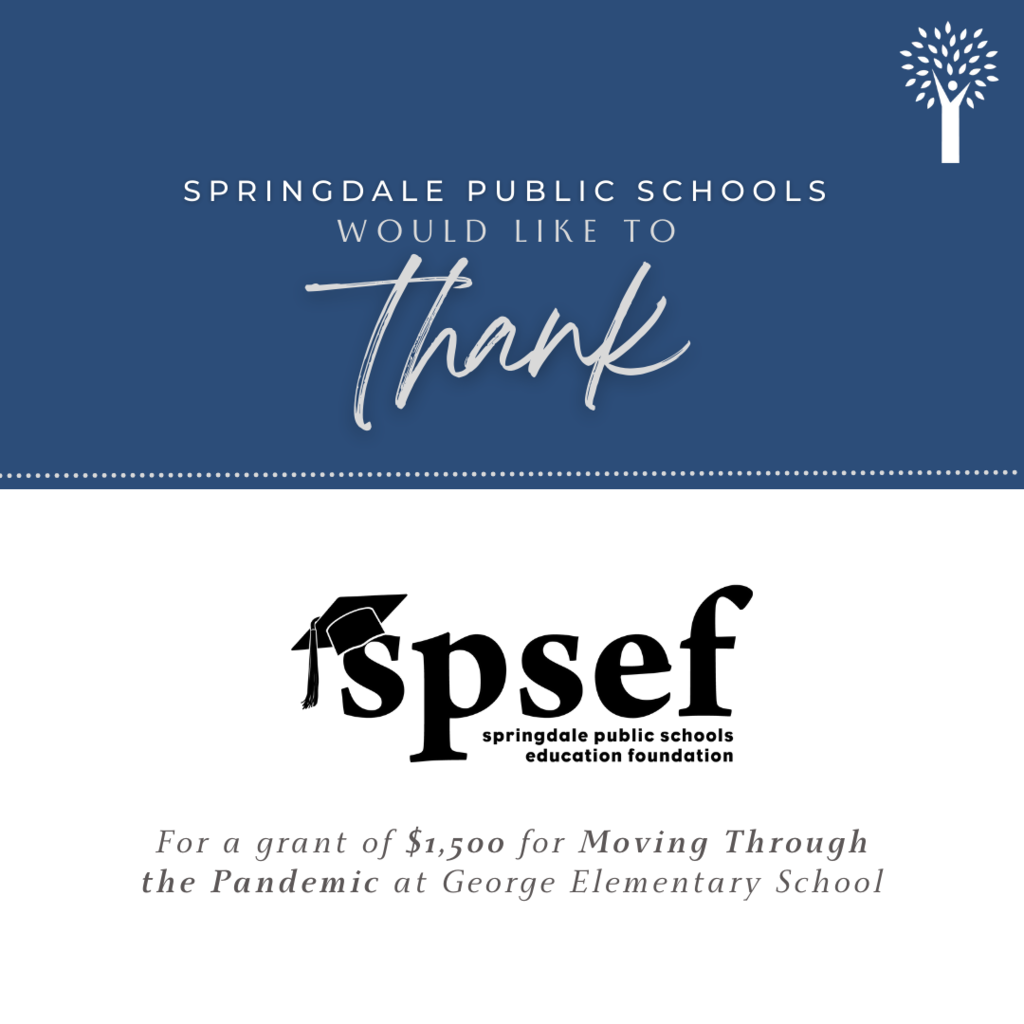 "I appreciate your commitment toward ensuring our district is a safe place for all students and staff members. Each one of you is vital to making that happen, and I'm confident you will all continue to give students your best." Read full message:
https://www.smore.com/yve20


What a semester for the Central Junior High Band! All-Region Results for CJHS Band for the fall semester. All Region North Orchestra 6 Placements, 3 Alternates Annabeth Jones - 2nd Chair Oboe Casey Elliott - 1st Chair Bassoon Silas Wilson - 1st Chair Trumpet Matthew Cox - 1st Chair Trombone Ivy Sandoval - 3rd Chair Trombone Ainslee Carter - 1st Chair Tuba (they only take one!) Alternates Jack Mayhew - Tuba Jude Harris - Keyboard Alec Davis - Snare Some fun accolades: Most students from any school Most 1st Chairs CJHS controlled 24% (6/26) of placement in winds alone All Region Jazz 14 Placements, 2 Alternates Christian Iglesias - 1st Chair Alto Sax Angelo Carranza - 2nd Chair Alto Sax Daniel Baker - 1st Chair Tenor Sax Jace Johnston - 1st Chair Bari Sax Ivy Sandoval - 1st Chair Trombone Matthew Cox - 2nd Chair Trombone Ulises Ponce - 3rd Chair Trombone Gregorio Rivas - 4th Chair Trombone Silas Wilson - 1st Chair Trumpet Casey Elliott - 1st Chair Piano Aaron Oesterle - 2nd Chair Piano Asher Mitchell - 1st Chair Bass Guitar Alec Davis - 1st Chair Drum Set Hayden Harp - 2nd Chair Drum Set Alternates: Ruby Beard - Trombone Jude Harris - Drum Set Some fun accolades: Most students out of any school Most 1st Chairs All 1st Chairs of every section were a CJHS Band student Every section had a CJHS student CJHS controlled 75% of placement (14/19)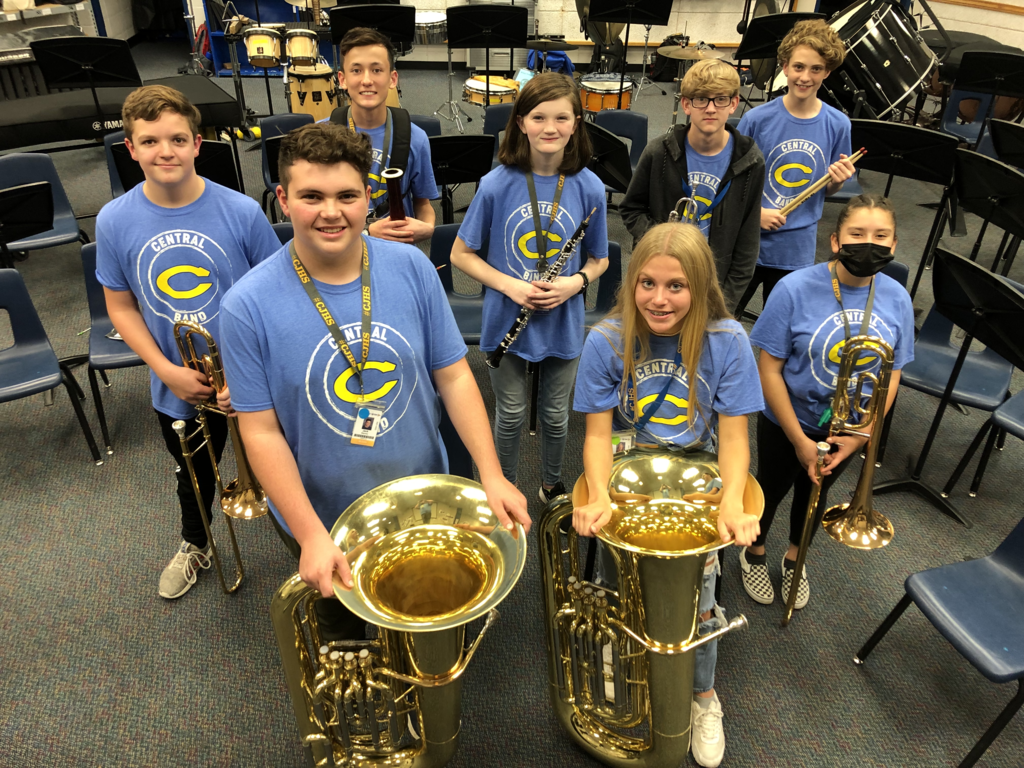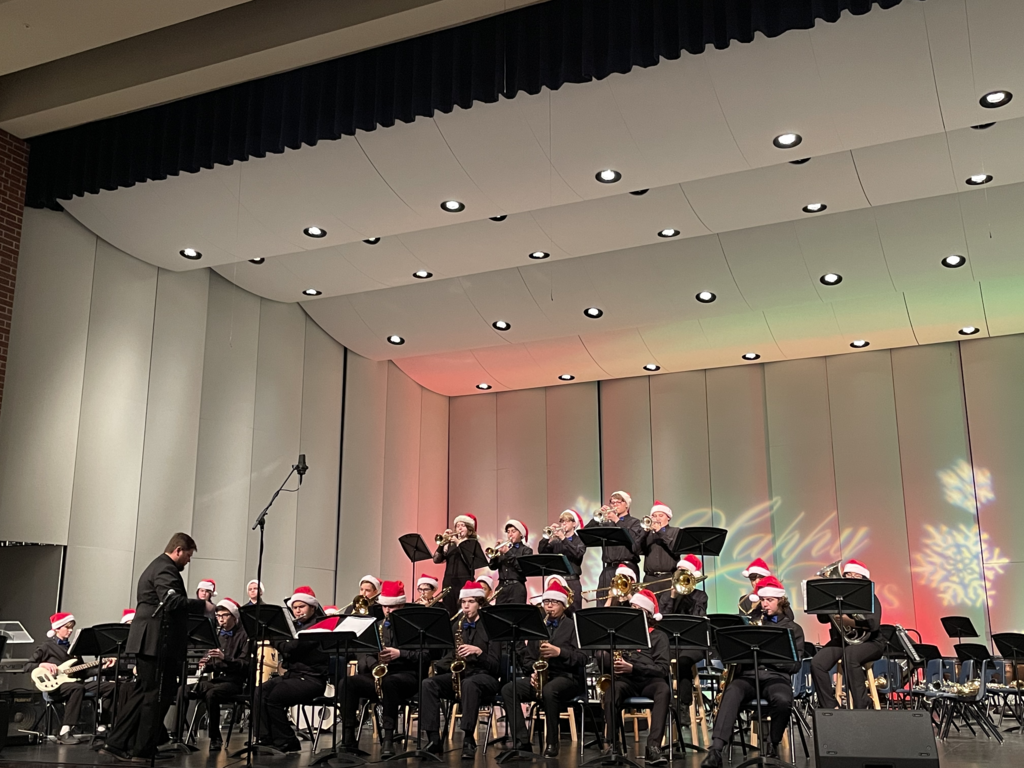 2021 Springdale District Spelling Bee Congratulations to all the spelling bee contestants this year! This year features a 43 round spelling bee, with an EPIC 25 round battle between Quintin and Michael.
https://youtu.be/8gxWaexHHRk

Save the Date: Drive Through Food Giveaway at the Treehouse Pantry: 12-16-21 from 11:00am to 1:00pm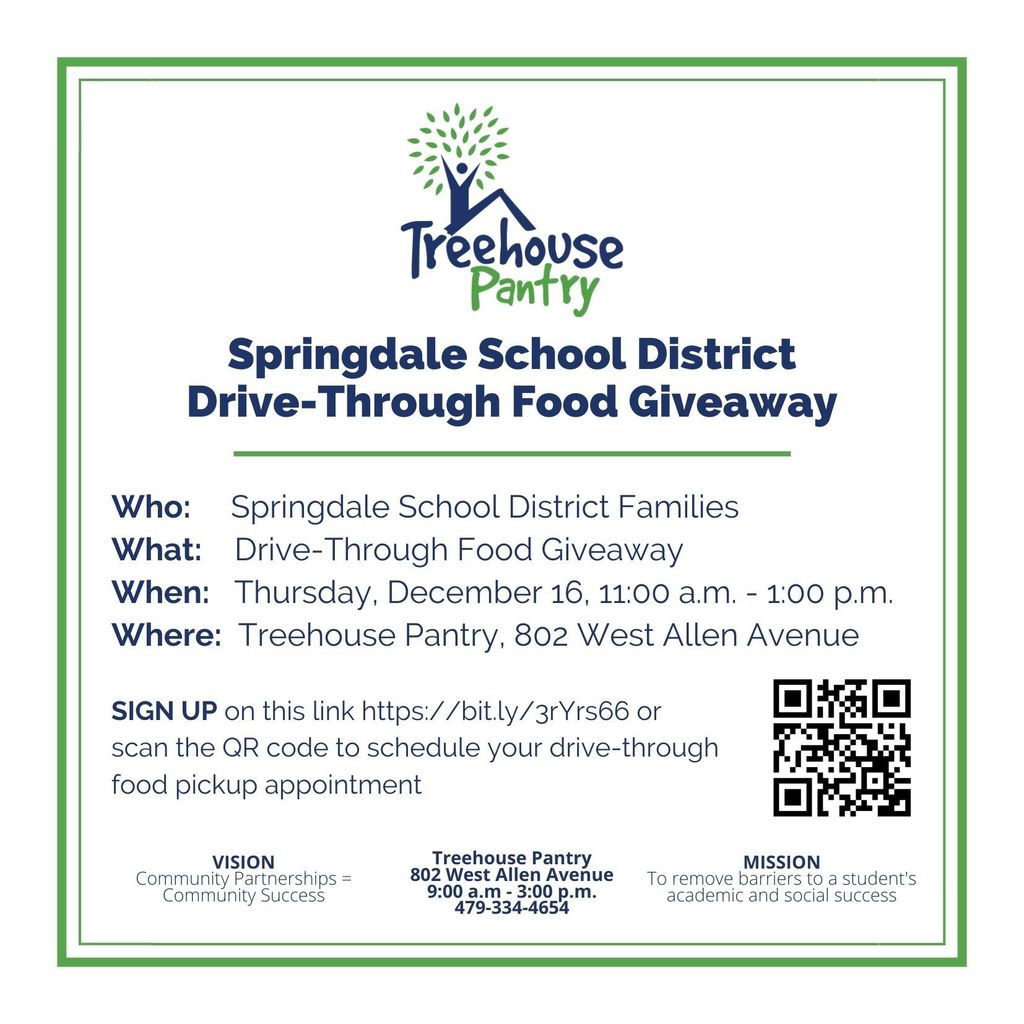 Have you made a purchase yet? Whole Smoked Chicken, Pulled Pork, Smoked Christmas Ham and more. Each purchase goes to support our students.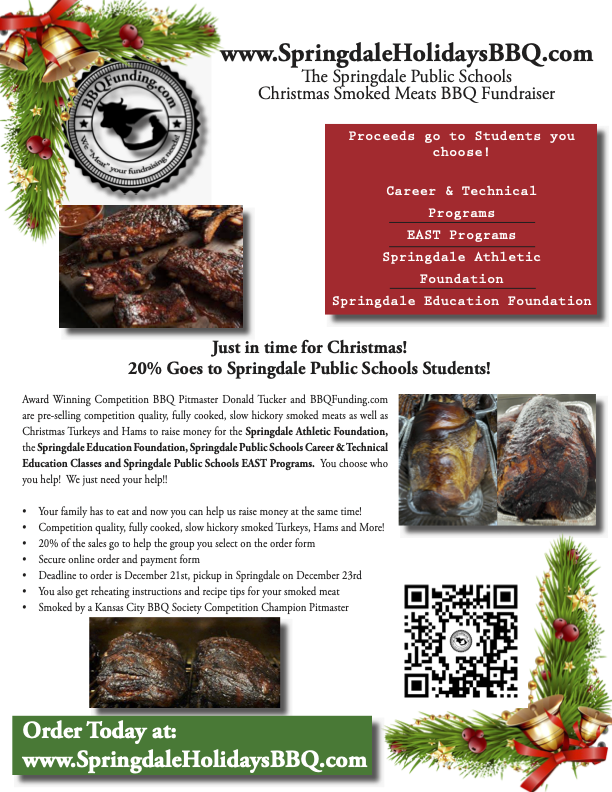 Smoked Ham, Turkey and much much more! These purchases will support our students in EAST and CTE

What a great way to support our students! Purchase award winning food for the holidays! Spread the word

Girls Scout Troops are forming NOW!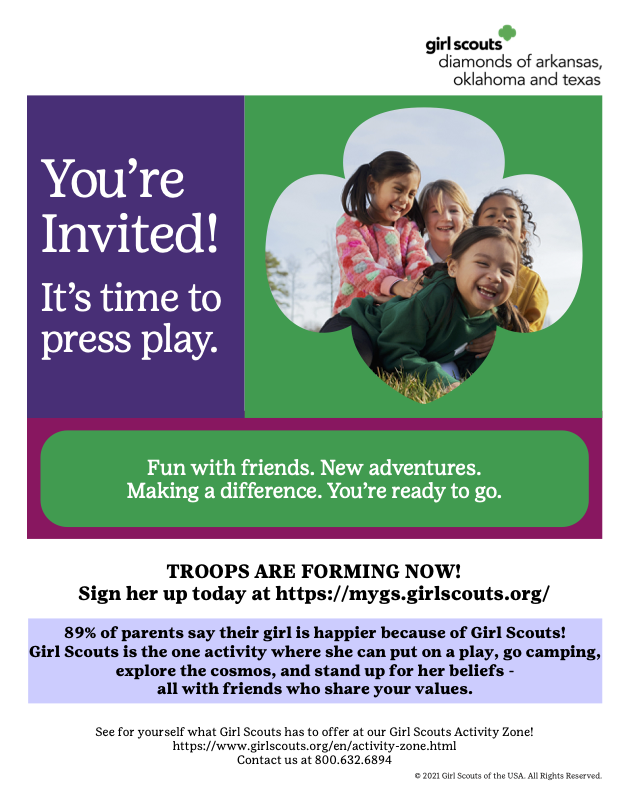 Pictured is the Don Tyson School of Innovation Concert Choir and Symphonic Band. Both ensembles performed at the DTSOI Veterans Day Ceremonies last Thursday. The Concert Choir is under the direction of Cindy Kee, and the Symphonic Band is under the direction of Jeff Kee. The Symphonic Band performed "Fanfare for a New Generation" to open the ceremony, followed by the national anthem performed by the Concert Choir. The performances concluded with a combined performance both by the band and choir on two patriotic selections.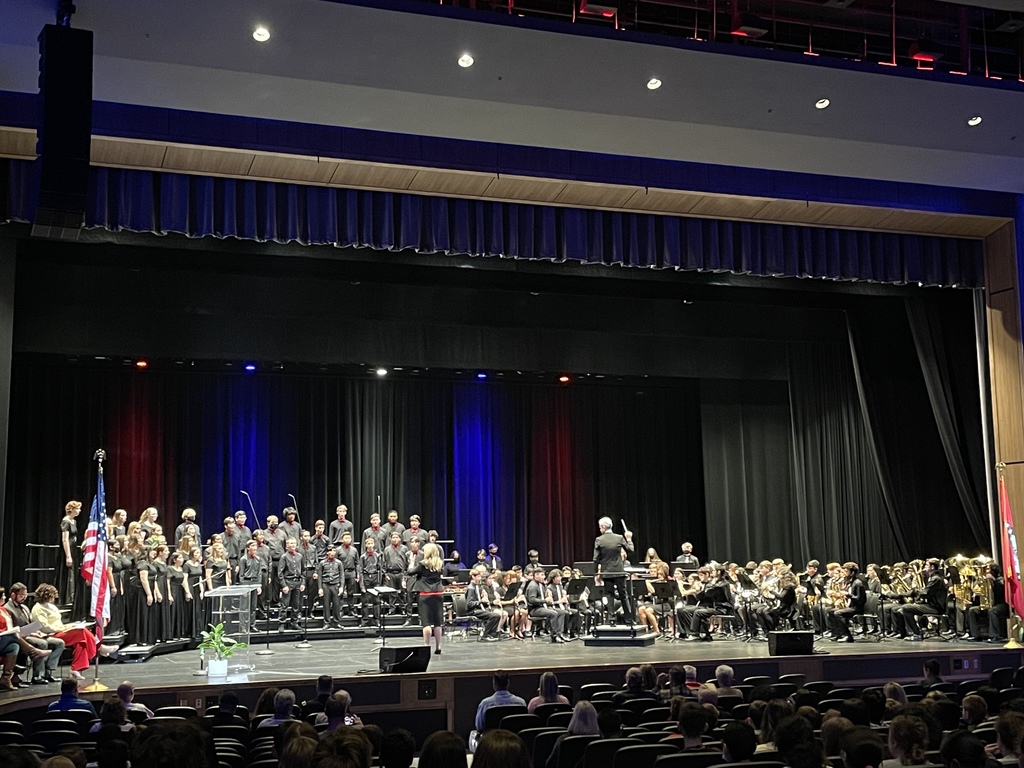 R stands for Rise. Rise relates to resilience. Teachers and parents: Encourage your students to take a moment today to reflect on something that was difficult that they have overcome. What did they learn from that situation?
https://www.smore.com/r9q63

A Stands for Advocate! Teachers and parents: Today, encourage your students to think about their beliefs and values. Talk to them about how they could speak up for themselves or others.
https://www.smore.com/0g3ma


Happy Halloween from George Elementary! Sawyer Swope, 5th grader, dressed up as his favorite custodian, Jose Valdez! This is why Springdale Schools is #THEChoice

Happy Halloween from George Elementary! Sawyer Swope, 5th grader, dressed up as his favorite custodian, Jose Valdez! This is why Springdale Schools is #THEChoice